American Idol winner David Cook had already found his love interest after the Idol finale last week on the person of ex-Idol contestant Kimberly Caldwell. During an interview on "Idol Tonight" last week, Cook said to Caldwell "I'm just excited because I finally get to talk to you."
TMZ caught up with the couple after their dinner date Monday night. David Cook who is not entirely accustomed to the paparazzi, took it all in stride. He appeared collectively cool, as always, and was polite to those invading his privacy. When asked if the world would be seeing more of the couple Cook paused, then smiled, then said, "Probably, yeah."
So Cook fans I guess you can stop swooning over Mr. Idol cause he's absolutely hooked up now with Kim Caldwell.
Some fast facts about Kimberly Caldwell:
Name: Kimberly Ann Caldwell
Birthdate: February 25, 1982  Birthplace: Katy, Texas
Known for: Being an American Idol contestant during the second season of the show and finished on seventh place.
Current gig: Talk show host on the TV Guide Network
* She's the first American Idol contestant to show off her sexy bod in Maxim.
* She's also appear in the covers of Entertainment Weekly, US Weekly, Cosmopolitan. You can find her on the May/June 2008 cover of SuperModels Unlimited.
10:11 am |
David Cook snug the American Idol throne against David Archuleta who has been the judges favorite on the finale night. The odds had been tipped to Cook's side for about 12 million votes.
Cook cried when he was called the winner, bending toward the stage after his name was announced. When he stood up, his eyes were filled with tears, the second time in as many nights that the scruffy, grainy-voiced belter had broken down.
AS an ending note for the show's seventh season, Cook immediately took the microphone and began to sing "Time of my Life," a midtempo rocker by Nashville singer/songwriter Regie Hamm, winner of the annual "Idol" songwriting competition.
Cook refused to bow to the conventional during his three-song set Tuesday, with Collective Soul's "The World I Know" as his pick for a closing performance. He also sang U2's "I Still Haven't Found What I'm Looking For" and the power ballad "Dream Big," his choice from the songwriting competition's non-winning finalists.
Both Davids will have a smooth career in front of them because of their popularity. The Idol night pulled out around 97 million voters which is a record breaker according to the Idol management and its also a 3 percent increase from last years finale.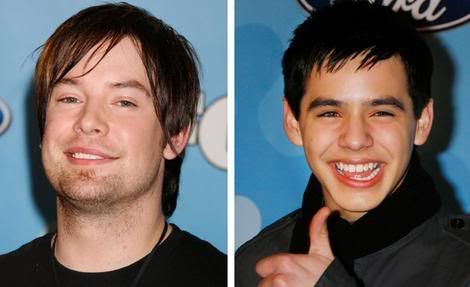 David Archuleta won the praises of the American Idol judges last night at the American Idol Finale. The two Davids brought down the house on the Idol Finals, both receive praises from the judges but Cowell declared David Archuleta won the night by knock out. The two contestants perform three songs each, a song by their choice, a song chosen by Clive Lewis and one from the original compositions written by the winners of the American Idol song writing contest.
In the first round, Cook and Archuleta received equally amazing praises; Cook for his version of U2's "I Still Haven't Found What I'm Looking For," and Archuleta for the Elton John anthem "Don't Let the Sun Go Down on Me." In the end, Cowell declared Archuleta the winner.
Cowell also handed the second round to Archuleta, whose performance of the inspirational ballad "In This Moment" impressed the judge more than Cook's take on the power ballad "Dream Big."
For the third and final round, Archuleta went back to the song that cemented him as a favorite earlier in the competition, closing the show with a repeat of his unique take on John Lennon's "Imagine." Cook, who chose a song he hadn't yet performed in Collective Soul's "The World I Know," didn't stand a chance against that.
If only Cowell can give the crown last night, he have handed it to the 17 year old David Archuleta. However, American still have to vote for their bets. So vote now for your favorite. For me whoever wins will do. Because they are both great and have good career ahead of them.
Kristi Yamaguchi as predicted by the judges won this season of Dancing With The Stars against fellow contestants Jayson Taylor and Christian dela Fuente. Though 75% percent of Dancing viewers are composed of women Kristi still won their hearts getting their votes. Last Monday night Kristi and partner Mark Ballas got a perfect score of 60 for their performances.
Christian dela Fuente was eliminated earlier in the Dancing finale leaving Jayson Taylor and Kristi Yamaguchi to vouch for the title. But the voters had decided to give another woman celebrity the title last night after the first season winner Kelly Monaco.
Taylor, the massive but graceful pro football star, called Yamaguchi "just perfect," adding that he "grew up watching her compete for our country." De la Fuente, who was eliminated early in the two-hour season finale, said "it was impossible to beat her."
Watch Kristi and Mark's sneak performances here.
Start a Public Domain Info Business! It's easier than you may think!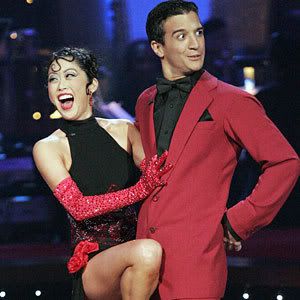 Kristi Yamaguchi and her partner Mark Ballas had receive a perfect score of 60 for their performance on Dancing With the Stars finale night yesterday. However, many are still in doubt if the duo will win cause the other 50% of the scores which are the voters choice are still pending. The other two teams compose of NFL superstar Jayson Taylor and partner Edyta Sliwinska; and Ugly Betty actor Christian dela Fuente and two time Dancing with the star champion professional partner Cheyl Burke are also strong contenders in terms of the voting.
Though the last two couples gotten a much lower score compared to Kristi they are leaning on the appeal of the two hunks for the mostly women viewer of Dancing. And for the last four seasons of the show it seems like men dominated the scene. If ever Kristi Yamaguchi will win she will break the chain be the woman celebrity to win after the first season champ Kelly Monaco. Judges agreed that Kristi is a great dancer and deserves to hold on to the throne of Dancing this season but the voters still had their say.
The champion will be announced Tuesday night after the results of the votes are finalized.
Two Davids will battle on American Idol Tuesday night for the coveted Idol throne. Many said that the top 2 contestant were predictable from the start. But the remaining question is, "Whose David will win?". Its tough to predict really because both contestants had a concrete set of fan base and solid supporters. Both had charm and appeal with different set of fans. Archuleta had this boyish appeal and soulful voice that attracted teenagers and middle aged to old viewers while Cook attracts girls 18 and up.
Archuleta is an early favorite with his soulful rendition of the song Imagine by the Beatles which won him constant praise from the judges and an outpour of votes from the voters. Cook is also a very tough competition because he's not afraid to take the risk singing the rock version of the song Billy Jean by Michael Jackson though not entirely original.
The two had also their worst performances but both recovered week after week till the finale tonight. Both will absolutely have a great career in the future cause Sony BMG will surely offer them their respective contracts due to their overwhelming popularity. I just hope that America will vote out the best, though I for one had doubts who's my favorite among the two because their both talented and appealing. So I'll said good luck for both of them and I wish them both the very best.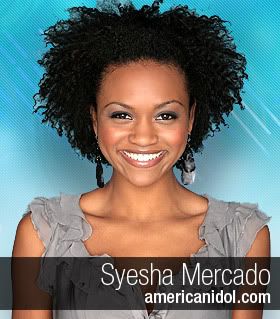 Syesha Mercado had an amazing performance on American Idol last Tuesday but its not enough for the voters. She was eliminated from the Top 3 last Wednesday night and the two Davids remain to battle for the American Idol title.
Last Tuesday, the Top 3 contestants of American Idol performed 3 songs each — a judge's choice, producers choice and their own choice. For the judges choice each judge has a designated contestant to give their choice of song. Paula Abdul chooses "And So It Goes" by Billy Joe for David Archuleta, Simon Cowell chooses "First Time Ever I Saw Your Face" by Roberta Flack for David Cook, and Randy Jackson chooses "If I Ain't Got You" by Alicia Keys sor Syesha Mercado. Then after that the 3 performed their songs choices and the producer's choice. It was a very good night for the three contestants but only two must be left for the finale this week.
So place your votes for your idols now! The two Davids on the battle fields and your vote matters. David Cook or David A!
Watch Syesha's last performance at American Idol singing If I Ain't Got You.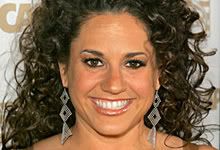 Dancing With Star eliminates another dancing star wanna be. Tony Award winner MarissaJaret Winokur won't be adding a mirrorball trophy to her collection of prizes – the actress was eliminated Tuesday from "Dancing With the Stars."
She and her professional partner, Tony Dovolani, came into the semifinal results show in last place, with 52 points out of 60. The couple divided the judges Monday with their quickstep and rumba, earning 26 points for each performance.
DEspite being eliminated Marissa still radiate a very bright smile and disposition.
"I've never felt sexier in my life. Just going through this ride, I feel like I can pretty much do anything," said the full-figured Winokur, adding that she "wanted to prove to people that you don't have to be a size zero to dance."
"I want everyone to go out and do something fun," she said as the credits rolled on the ABC dance-off. "Do something that makes you feel sexy and shake what your mama gave you."
Only 3 pairs remain for the finals next week including Jason Taylor, Kristi Yamaguchi and Cristian de la Fuente and their respective professional partners.
Wow! I must admit I enjoyed the episode of Survivor 16 in Micronesia last night in which Erik fell prey to the ladies who suckered him into giving up his immunity.
Erik was blindsighted and voted off last night.  

Is anyone other than Erik suprised???
As the last remaining Survivor girls were scheming last night, I kept thinking to myself how no one could be so stupid as to give up immunity. They were guilting Erik into making a gesture to show the jury he was redeeming himself for his lying and manipulating by giving his immunity necklace to Natalie.
Even Natalie didn't believe Erik would fall for it – but Cirie helped push him over the edge saying she needed to see a gesture in order for her tochange her vote to get rid of Amber.
Erik fell for it.
The odd thing is he had immunity – what purpose could changing the vote to Amber make in his quest to be in the final 4???
And to makie matters worse – Erik has been had in the past when he was convinced to do something in return for not getting votes. They were ready to slam him before.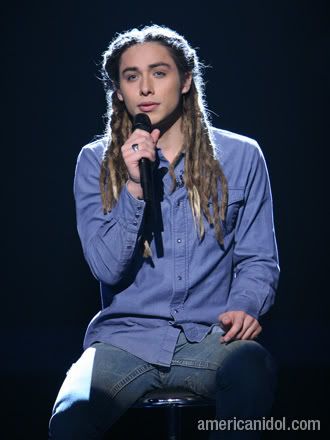 Jason Castro forgot some of the lines of the song "Mr. Tambourine Man", a Bob Dylan classic during the Rock and Roll Hall Of Fame Night yesterday at American Idol. Judge Simon Cowell told the 20 year old hopeful "Jason, I'd pack your suitcase" after the performance.
Even Jason acknowledge his mistakes, stating after Randy Jackson ask his opinion on his own performance, "I lost some lines in there; that's kinda bad."
The other judges Randy and Abdul were not impressed though Paula is gentler on her comments as usual.
"Mr. Tambourine Man" was Jason's second song for the night. He first sung "I Shot the Sheriff" by Bob Marley which garnered criticisms from the judges.
Rock and Roll Hall Of Fame Night is the performance week of the top 4 American Idol contestants. It was David Archuleta who gained the judges praises of the night with Simon saying "You did not beat the competition, you crushed it" after David sung his 2nd song of the night entitled "Love Me Tender" as popularized by Elvis Presley.
Tonight America will decide who will remain for the top 3.