By Mike Liebner, www.TVRobot.com
6 episodes, two evictions and

16 days into Big Brother 10

and I must say I love it!
Big Brother is still the best reality TV show on television! The staple reality TV show Big Brother consistently delivers a breath of fresh air and is as fun to watch as ever. While Big Brother 10 may have it's weaknesses and a few ups and downs, it still is the top must see reality TV show! If you've been missing out, you better get in on the action while it's still early!
This season Big Brother 10 is stirring it up and giving us a live studio audience for it's weekly eviction episodes. While I admit I sometimes try to resist change from the things I know and love, it does work very well and the studio audience doesn't hamper Julie Chen's ability to carry out the eviction ceremony successfully.
In a vote of 9 to 0, the 2nd eviction ceremony has put an end to Big Brother's "Gay Rodeo Circuit".
The BB10 houseguests evicted the so called gay rodeo competitor Steven, thereby keeping in the other guy on the chopping block, religious and oliy haired schoolteacher Dan.
Now back to this alleged GAY RODEO CIRCUIT…
On the show and on the web page for Steven he is referred to as "Steven is a geographic consultant by day and a rodeo cowboy by night. He is a champion bull rider in the gay rodeo circuit."…
Hey ya'll, is there really a "gay rodeo circuit" as they refer to it, or is Steven just a gay bull rider in a straight rodeo circuit??? These things confuse me, but regardless, Steven was a genuinely nice guy and I'm glad that religious schoolteacher Dan (also on the block) could see him as more than just "gay Steven" (Dan's own words). (more…)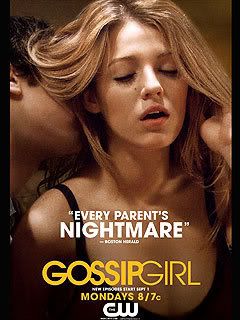 The new season ads of Gossip Girl will raise eyebrows again, for sure. They have use the negative comments of organizations and tabloids for their racy ad campaign. I'm sure critics will be talking about this new ads with punch lines like; "Every parent's nightmare," "Mind-blowingly inappropriate, " "Very bad for you," and "A nasty piece of work."
And it's precisely those words that are being used to promote the show's new season on ads that feature the shows stars — Blake Lively, Chace Crawford, Leighton Meester and Ed Westwick — in super sexy poses and scandalous situations.
Check out the other ads of the TV show Gossip Girl Season 2: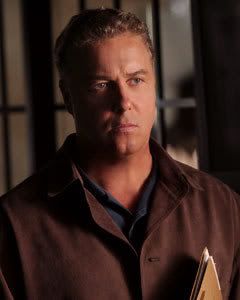 Evidently it's all gotten to be a bit much for Crime Scene Investigator Gil Grissom. Or, it will.
Addressing it an de facto signoff instead of yet another sabbatical, EW.com reports that William Petersen will be exiting CSI sometime midseason.
"Billy is leaving," series administrator producer Carol Mendelsohn stated. "But he will remain throughout the run of the series an executive producer. And he will, whenever CBS asks, come back. I don't think you've seen the last of Gil Grissom."
"My biggest problem with leaving the show at any point isn't leaving Grissom," said Petersen, whose preceding leave came up when he took five weeks off-duty to do theater in Rhode Island. "I'm an actor, it's time to do other things. "[The hard part will be saying goodbye] to the cast and crew. [So] I'm going to stay as involved as I'm allowed to be throughout the remainder of this show. Until they turn off all the lights."
Petersen's departure will mark the ripest blow to the procedural's primary principal lineup, which lost Jorja Fox and Gary Dourdan last season—although both will be making appearances in coming installments (one later than the other).
(more…)
So You Think You Can Dance's finalists, Jessica King, has quitted the dance competition after suffering an accidental injury, producer Nigel Lythgoe stated to the newsmen of the FOX Television Critics Association event in Los Angeles today – Monday.
Lythgoe also states that Comfort Fedoke, who was rejected on the results show July 10, will come back in the contest.
"I would like to say how sorry I am that Jessica cannot continue dancing in the competition at the advice of her doctor," Lythgoe enunciated in a statement issued by FOX. "Her entire recuperation is paramount and will only go with relaxation."
Although Lythgoe would not talk about the accidental injury with newsmen, "We will say [what happened] on the show this week," he said. "Her doctor says she necessitates between four to five weeks to rest."
(more…)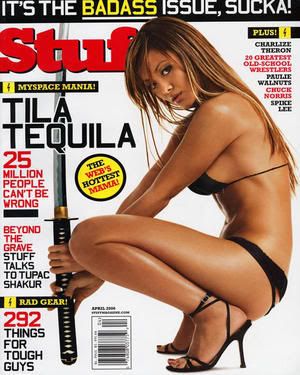 At the finale of Tila Tequila's A Shot Of Love Season 2, the bisexual Tila had a very twisted ending in the story. She was dumped by no other than Kristy Morgan whom she gave a chance for her shot of love. What sad finale for the Internet savvy girl.
She was made to choose between the last two contestants, potential boyfriend Bo and Kristy, when she dismissed Bo after he did his best to use his body heat to melt a block of ice to get to "Tila's heart" frozen in the center. "I've been calling Tila my girlfriend for a long time now," a heartbroken Bo told the cameras. "I really do love Tila. You always get your Bo-bear."
However, after a steamy make out session with Kristy in the hot tub, Tila was surprised when Kristy rejected her final key. "You love that I'm honest and that I'm true to my feelings and true about who I am," Kristy told a teary Tila. "If I take this key, I'm not being true."
"Why would you do that now?" Tila asked. "Why would you put me through all this process… I feel humiliated."
(more…)
Kristy Lee Cook, one of the fan favorite American Idol contestant  of season 7 has sgned a record deal with a country music label. She was one plucky cowgirl who braved Simon Cowell's barbs week after week on Idol!
Cook, the seventh place finisher whose performance of the Beatles's "Eight Days a Week" was compared to "Dolly Parton on helium" by Cowell, had positioned herself as this year's country artist on Idol, singing selections from Martina McBride and Lee Greenwood. Now, she'll be a label mate of the show's most famous country star, Carrie Underwood, after signing with 19 Recordings/Arista Nashville.
Cook, a 24-year-old native of Selma, Oregon, will release her first single, the up-tempo "15 Minutes of Shame" on August 11 and she'll record her album (produced by Brett James, one of the songwriters behind Underwood's hit "Jesus Take the Wheel") between Idol tour dates. Her album is expected to be released this fall.