Its time to eliminate another one from the Top 10 of American Idol seasin 8. Whose going to leave their dreams behind and whose still on? Ryan Seacrest announced that more than 36 million votes came in – the highest number of votes they have ever received for a Top Ten group in the history of Idol! Season Two winner Reuben Studdard is there to perform, and there will be a duet with Joss Stone and Smokey Robinson in honor of Motown week! The judges were introduces and reminded that they can still exercise the option to save someone who has been voted off tonight.
Show opener tonight is no other than Reuben Studdard, American Idol winner singing his latest single, Together. Dressed in a dashing black suit with white piping trim, a bearded and bald Reuben belts out his tune live much to the delight of the studio audience. After the song, Ryan announces that congratulations are in order – Reuben was recently married!
It's been an exciting week for the contestants on American Idol, as they were flown by private jet to Detroit to visit Hitsville. Down to business, Ryan Seacrest says it's time to pull out the bottom three. He asks Adam Lambert to stand up. After the nationwide vote – he's safe! Matt Giraud is next in the spotlight – the judges all thought he had a solid performance – but America disagreed – he's in the bottom three! The studio audience boos! Kris Allen is centered out by Ryan next. He builds the suspense, but then says that Kris is safe. Lil Rounds and Michael Sarver are both asked to stand up now. Lil is told she is safe, but Michael is in the bottom three.
Joss Stone and Smokey Robinson take the stage on American Idol to sing their duet, You're the One For Me. Joss is wearing a floor-length, flowy blue dress, and Smokey is in a debonair black suit. After the song, Ryan says that someone else will have to join Michael and Matt in the bottom three.
Ryan Seacrest asks Allison Iraheta to stand up – last week she was in the bottom three on Idol, this week she is safe! Anoop Desai is called. America voted and Anoop is safe as well! Danny Gokey gets to his feet. Ryan says Simon called his performance clumsy and amateurish – but America disagrees with Simon – he's okay! Scott and Megan are the last two contestants – one is in the bottom three. Simon predicted that Megan Joy might be in trouble – but it's actually Scott McIntyre that is in the bottom three! Ryan asks Randy Jackson to say who does not deserve to be in the bottom tonight – Randy says Matt has been rockin' the mic! Ryan sends one person back to safety, but it isn't Matt – it's Scott! (more…)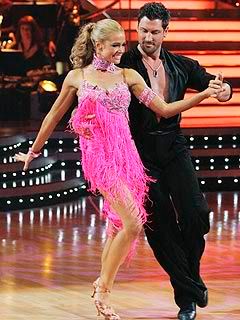 Its the second elimination night for Dancing With The Stars. Tonight DWTS will going to showcase 2 award winning musical entities and of course no other that DWTS alumnae herself Cloris Leachman and her pro partner Corky Ballas.
Who are the two pairs who will battle in the showdown tonight? And who will be eliminated?
Samantha Harris explained before the show begun that next week two pairs will be eliminated with the double elimination round. And here comes the reality part..
The first four couples who were called out on the safe zone where Melissa Rycroft and Tony, Gilles Marini and Cheryl, Shawn Johnson and Mark and last (and a surprise one) Steve Wozniak and Karina!
Then another four pairs were called out to dance another week for Dancing With The Stars and they were Lawrence Taylor and Edyta, Davil and Kym, Chuck Wicks and Julianne and Lil Kim and Derek.
Only four other couples remain on the spotlight. Let's see who will be safe and who's not after this amazing performance!
Its week 3 of Dancing With The Stars and the contestants all have the same time to practice makes them on equal footing.
I am very excited to see the contestants and their partners tonight!
The first to grace the dance floor tonight on Dancing With The Stars were Denise and Maksim. They danced the Samba. Maksim thought that Denise was being too serious, so he dressed up in a hot pink samba outfit to get her mind off the steps. Great effort for Maks. Their routine was still too stiff and Denise look like she was scared to dance.
Len commented that the samba is the hardest of all the Latin dances and he thought that Denise needed more hips and flare.
Bruno said that the dance was so flat and full of holes, it was more like a waffle than a samba.
Carrie Ann told Denise that she shows all of her emotion in her face and she looked terrified. She also told Denise to work on her arms movements.
The judges gave them scores of 5, 6 and 5 a 16 out of 30.
Then real life partner Chuck and Julianne came out on the dancefloor. This week they are stepping up their game with the foxtrot and Chuck hopes to break out of Julianne's shadow. Their dance was fantastic. Bruno said he was happy to say Chuck was in the driving seat tonight and wasn't chasing Julianne all over the place, but leading her. Carrie Ann said that she thinks someone is showing that they can be a contender. Len said that it is hard to teach your partner anything and he thought the hold and posture was good, but not great yet. (more…)
Dancing with The Stars 2009 premiere had kicked off last week on ABC.
This week the show had its 2nd performance night and 1st elimination night. I'm going to tell you about the show's 2nd week of performance and their 1st elimination round last night. So gear up your seats and be ready to be filled up with info!
The first to perform where Playboy star Holly and her pro partner Dmitry. They were dancing the quickstep tonight. One week sure made alot of difference for Holly. She was very light on her feet and the choreography was cute! Len said that the quickstep is a very difficult dance. Holly's posture was lacking and her bosum sticks out too much. Bruno said that Holly has to keep up with her partner.
Carrie Ann said that Holly was like a doll being dragged across the floor and had to work on being an equal partner with Dmitry. The couple's scores were 6, 6, 6 an 18 out of 30 their total with last week's scores is 32 out of 60.
Second couple to perform were funny man David and his pro partner Kym. David asked for a harder routine, so Kym gave it to him. They were dancing the salsa. The dance was more technically difficult, but still fun. Bruno said that his character was right, his hip action was poor and his timing was off. Carrie Ann said that they were lacking from being driven by the musicality. Len said that the salsa is a true performance dance, and although he performed it there was far too much of Kym and not enough of David. Their scores tonight were 6, 5 and 6 a total of 17 and an overall total of 36 out of 60.
Then red hot mama Denise grace the floor with her partner Maksy-poo. Maks told Denise that the judges were wanting Denise to bring it tonight and she was prepared to do so. They danced the quickstep tonight. She had a few mis-steps here and there, but her performance was so much better than last week. The jitters seem to be gone. Carrie Ann said that Denise had performed much better and for the most part was really great. Len said that there was a great improvement from last week except one moment where they lost a bit of synchronicity. Bruno said aside from a bit of a stumble, she did very well. The judges gave them 7, 7 and 7 a score of 21. With their scores from last week they now had a total of 39 out of 60. (more…)

Its the second elimination night for American Idol Season 8. Lots of surprises will be showcased tonight including a performance by country stay Brad Paisley and of course American Idol's own Carrie Underwood who had recently been inducted in the Grand Ole Pry group as invited by country star Randy Travis. Randy who's been the one who visited the American Idol contestants this week had been amazed with the potential and talents of the participants. He will have a duet with Carrie tonight.
The show kick off with the Top 11 singing Trouble by Travis Tritt as a group performance. Then the new music video of Ford "Here It Goes Again" was watched as the participants played with water balloons. They have shared that the experience of taping the music video was really a lot of fun. Then Ryan showed a montage of what goes behind the scenes when a contestant was eliminated as what happened to Jasmine and Jorge last week.
Now, its time to call the bottom three. Ryan called Danny Gokey, Lil Rounds and Anoop Desai. They are safe this week and will be accompanying the Top 10 on the American Idol summer tour. Then Michael Sarver and Allison Iraheta were told to stand up. Ryan asked for Paula Abdul thought on whom she thinks who's the one between the two that is included in the bottom three. Then Paula said it was Allison. Ryan agreed with her and announced that Allison is indeed in the bottom three. But wait Michael is not safe too. He will accompany Allison in taking the stool because they are not safe.
(more…)
American Idol's Greatest Moments! Relive the moments that shaped music history!
Click here for American Idol's Greatest Moments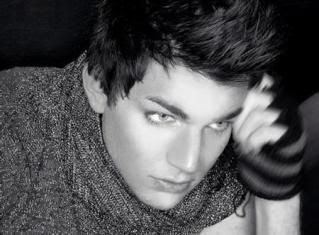 Last night the Top 13 Finalist of American Idol performed for the first time on Idol '09. With the heart stopping performances, Simon's criticism and the fans howling 2 of the top 13 had been eliminated tonight. Also a new rule has been announced which involves the judges. Know more by reading this entry until the end.
33 million votes had came in last night for the first performance night of the American Idol Top 13. So the bottom two contestants who got the lowest votes will be elimated from American Idol.
Host Ryan Seacrest explained the new rule for everyone. Its called the Judges Save. The judges can use this rule to save a contestant once and only once until the Top 5. Once they use it, the save cannot be used again the entire season. The week they use the save, no one will be eliminated but the next week two will go. Simon Cowell commented that it is not necessary reversing America's decision.
Then the audience have been given a glimpse on how the contestants are treated by the Idol management. They are living in a mansion, complete with amenities which they can use anytime they want. What a glorious opportunity for them, right?
(more…)