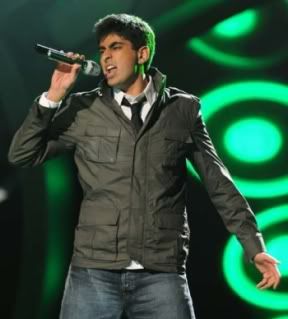 On American Idol 8 results show this week, two persons will be eliminated due to the judge's save last week. Who do you think was voted off last night? Lots of vote came in, about 45 million. This week's Idol results episode delivered something a little different for the opening number. Rather than the usual group number, in which the contestants sing live and do a few basic dance steps, we got a lip-synced performance as the contestants performed a dance routine choreographed by Paula Abdul.
They sang the song Shake Your Body Down To the Ground from the disco era. Then the contestants gave Paula flowers to show their gratitude for being their choreographer for last night's opening number.
Another Ford video was launch and its entitled I'm Good, I'm Gone. Seems like the Top 7 enjoyed the making of the video so much. Quality is good but not as good as last week.
Then reality hit again. Lil Rounds must have done something to tick off someone important (Simon Cowell?) at American Idol. Rounds was dispatched faster than anyone in the history of the show Wednesday night. She was the first one asked to stand. Without drawing things out, Ryan Seacrest took her to one side of the stage and told her that her American Idol journey was over. That part is kinda annoying because of the way they dispatched the singer but almost all see it coming.
(more…)
Tonight at Dancing With The Stars Season 8, another couple will be voted off and 6 professional dancers will compete on a guaranteed spot as pro partner of a star next season. Who do you think will go home tonight? And let's watch who's the pro that is worthy to be a star partner on season 9.
First up, Natasha Bedingfield performed her new hit "Soulmate" from her album Pocketful of Sunshine accompanied by pro dancers, Dmitry Chaplin and Lacey Schwimmer. The perfromance was great.
After that, another performance by the cast of the international dance sensation Burn the Floor danced an original number by world champion Ballroom dancer and Burn the Floor creator and choreographer Jason Gilkison. Burn the Floor has thrilled audiences in more than 30 countries worldwide, taking audiences on a toe-tapping journey through the passion and history of Ballroom dance. They are currently performing at San Francisco's Post St. Theatre and will close on April 26, 2009.
The first three couples who are safe were announce and they were Chuck and Julianne, Melissa and Tony; and Shawn and Mark.
Then Tom and Samantha announced another competition within the show. Half a dozen professional dancers will compete to become the new addition to the shows professional trainer to the star next season. This week the six professionals paired into three couples and competed in the first round with their chosen style of dance, either Latin or Ballroom. One couple (two professional dancers) will be eliminated based on viewer votes.
The first couple who performed for the pro competition were Brent and Afton. They danced the Cha Cha Cha. Well, Afton obviously outshine her partner. Len commented that the Cha Cha Cha was crisp and clear and Afton showed more drama. Bruno said that Afton was very sharp and Brent brings new blood. Carrie Ann said that Brent has a great TV presence and Afton is beautiful to watch.
(more…)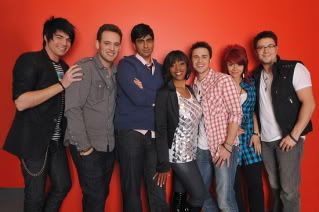 Its the second week of the American Idol Top 7 tonight. Two will go home tomorrow due to the judges save last week. So who you think will go home? And who will stay to be on the Top 5? Its Disco night for American Idol today and let's watch the contestants bring Disco back/
The night started with Lil Rounds singing Chaka Khan's "I'm Every Woman". Randy Jackson was still rambling on how he cannot see Rounds as an artist. Kara DioGuardi thought it was not worth the wait while Paula Abdul threw in some kindness, saying that Round looked great. Simon Cowell played it straight and plain, dropping the "you're going home" bomb.
Kris Allen sang Donna Summer's "She Works Hard for the Money". Although it was a disco song, he brought his guitar and was backed up with an acoustic band. Kara loved the arrangement which was a big risk, Paula felt a "classy Santana" in the performance, Simon said it was "original, well-thought and not karaoke", Randy thought Kris was ready big time.
Danny Gokey chose "September" by Earth, Wind & Fire. Randy was worried about the song choice but thought it still worked. Kara called it "solid", emphasizing that he is a good vocalist who's always on pitch. Paula said he showed his agility as a performer and has taken it a step further. Simon said it was "awkward and clumsy".
(more…)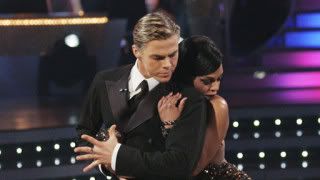 More surprises on Dancing With the Stars Season 8 tonight. The contestants not only had to perform their own couple dance, but they also had to dance in a group routine which will be scored by the viewers only. The dressed of pro dancers tonight were designed by their star partners. The stars danced a variety of styles of dance hoping to stay in the running by winning both the judges and viewers votes tonight.
Melissa needs to be a maneater, but doesn't know how to. What does Tony do? Take her to Wisteria Lane, naturally! Synergy! Too bad Edie's dead. They meet up with Teri Hatcher… who is a really a great actress, Melissa says. No comment. Costume-wise, Melissa clearly concentrated more on herself than she did on Tony. What's with the red line on the stockings? Is that where we're supposed to peel? It looks like one of those perforated lines on packaged gum.
Anyway, this song is giving me a sonic headache, but it doesn't seem to be affecting them. Melissa's legs look awesome, red line and all, with its sharp and acute lines. I don't really feel the maneater-ness, just like how I didn't feel any chemistry in their rumba last week. It's a good performance, but not a great one. Len loves the lifts, but saw a blunder. Bruno calls it the revenge of the maneater. Carrie Ann calls it by far the best Argentine tango she's ever seen. Uh, what?!? Do the names Gilles and Cheryl mean anything to you? How soon we forget. They scored 29 out of 30.
Next Lawrence and Edyta were up with a Waltz. Edyta thought that it would be difficult for Lawrence to be graceful because he is such a big guy. Lawrence said he was getting his smooth on. What Lawrence lacks in technique he makes up with his beautiful personality. Lovely routine.
Bruno said that Lawrence definitely got his smooth on. Carrie Ann said that she saw more freedom in his movement and he looked like he was enjoying the dance. She also complimented him on the dress that he designed for Edyta. Len said that overall he was shocked at how well Lawrence performed the dance and it was unfortunate that the dress got caught on Edyta's head. They scored 21 out of 30.
(more…)
Another great blindside is coming here on Survivor Tocantins. Be amazed on how to power player planned to blindside one another. Will it be Coach or Brendan who will be going tonight?
Day 21 on the new tribe Forza, everybody was still shocked and sad that Joe had been medically evacuated. So to lighten the mood, Coach felt like he could tell the group a story that he felt was much worse — a time he was stuck in the Amazon. He told them he felt he was being watched and then he saw several locals who later pulled him aside, tied him up and beat him with a club. He said he didn't remember how long it lasted, but he had blacked out. Everybody sat silent as he told the crazy story. In a confessional, Brendan said that Coach could be the biggest fraud the game has ever seen. "If I don't believe his stories, how can I believe what he's saying in my face?"
The next day, Coach continued his daily meditation in the water while the rest of the tribe looked on. "He's like a snake ready to strike," Tyson joked. Coach then walked back to the group and gave a funky explanation of the style of meditation he was doing.
In a confessional, he nicknamed himself the dragonslayer because he was after Brendan — who he has called the dragon. He then labeled Sierra the bowel movements that come out of the dragon.
At the Reward Challenge, the nine castaways were divided into teams of three — red, white and black. Each team had one row of wooden blocks with ceramic tiles in the center. The task was to throw a ball at the blocks in an effort to break the other teams' tiles — essentially it was a grown-up version of a bean-bag toss. The last team left with tiles intact would win the reward — an afternoon whitewater rafting with a picnic to follow.
(more…)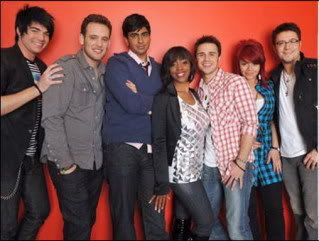 It's "Songs from the Cinema" week on 'Idol,' and with such a wide variety of genres and themes, no one should have a bad night this time around. You'd think so anyway!
Allison Iraheta
'I Don't Want To Miss A Thing'
by Aerosmith
A refreshing change from her usual hard, edgy rock performance. It was a little slow, a little overly breathy in the beginning but she worked it out. At the end, it was distinctly Allison.
Paula: You are authentic. You are a remarkable, talented young lady.
Simon:I think you are the girls' only hope in the competition. You are getting stronger, more confident.
Anoop Desai
'Everything I Do, I Do It For You'
by Bryan Adams
The original was borderline cheesy. Anoop's rendition was firmly in cheese territory and definitely boy band material.
Randy:You have definitely found your zone. It was in tune and emotional.
Kara:You found your place. I thought it was one of your best vocal. I felt connected to you. You did a good job.
Adam Lambert
'Born To Be Wild'
by Steppenwolf
The showman is back! No more suits and slicked back hair. He ruled the stage and had the audience in the palm of his hand with that electric performance. He reminds me of David Bowie.
Paula: Fortune rewards the brave. You are one of the bravest contestants I have ever witnessed.
Simon:Vocally, incredible. However, it was a little like watching a Rocky Horror musical. A portion of the audience will love it, some will despise it.
(more…)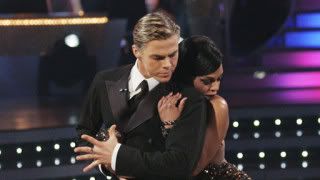 Jive and Rumba are the dances for tonight on Dancing With The Stars Season 8. The competition is halfway through with only 8 pairs remaining. The couples are going to get a beat down tonight. Who will be on the leader board and who will be down? Watch out here!
First on the dance floor will be Ty and Chelsie. Being the first one to perform the Jive this week didn't work to Ty's advantage. Despite giving his all, his performance was unsatisfactory as he was off beat most of the time.
Len said that Ty is charming and is bewildered as to what he is doing here. He gives 100%, but unfortunately his dancing wasn't that good. Bruno said the line dancing was good, and then the Jive started. Carrie Ann said that the dancing was exciting, but unfortunately Ty shows how some dances are better suited for each competitor and this dance wasn't for him. The judges gave Ty and Chelsie triple 6's an 18 out of 30.
Next would be Shawn and Mark or Team Shark. Shawn was terrified of the rumba given the sensuality of the dance. But the youngest competitor in the history of the show gave a very age-appropriate routine, earning the first standing ovation of the evening.
Bruno said that the dance was so beautifully pure it was almost angelic. Carrie Ann said that she thinks innocence is a beautiful thing and she could see the discomfort in her eyes a little bit. Len said that the Rumba is a bit like a fire and sometimes it is a bit too hot and they got it just right. The judges gave them 8, 8 and 9 a 26 out of 30.
(more…)
American Idol Season 8 is back with the Top 8 contestants and their theme this week is "the year that you were born. We'll see baby pictures of the contestants and of the judges too. Here's what the contestants performed:
Danny Gokey
He performed Stand By Me (Mickey Gilles version). The song is from the year 1980. He sorta change the songs arrangement, making it interesting to listen but not powerful enough for me. Randy Jackson tells Danny that he made him love it, even though he didn't love the arrangement. Kara Dioguardi agrees. Paula says he opened the show by setting the bar high. Simon Cowell says he thought the beginning was good, the middle was lazy, and the end was terrific – so overall – great!
Kris Allen
Idol cutie and last week's contender came out today with the song All She Wants To Do, a hit on his birth year, 1985. He's now playing the guitar and he changed the songs arrangement drastically which didn't bade well to the judges specially Simon, who called his performance indulgent, boring, and forgettable – it was a stupid song choice.
Lil Rounds
She sang Tina Turner's "What's Love Got to Do with It" – she sang it well, but nothing original. Lil must be confused by what the show's aim is – they're looking for a star, but she keeps performing songs by well-known artists and singing it like the original. Perhaps she just doesn't know what to do with her talent. So far, Lil has shown she'd be really good to be hired to sing at a bar to entertain folks which isn't so bad…she just isn't a star.
Anoop Desai
He chose to do Cyndi Lauper's "True Colors" – Great version a bit boring, but great vocals.
(more…)
After last week's double elimination on Dancing With The Stars Season 8, nine celebrities remain. And last night they dance the romantic Viennese Waltz or the dramatic dance of the bullfight, the Pasadoble. Tom Bergeron asked us whose Viennese Waltz will put the competition in a spin and whose Pasadoble will blow us away.
First to perform were real life lovers Chuck and Julianne. Chuck said he was finally going to let his guard down and go for it as he dances the Viennese Waltz. He really did let his guard down and Chuck and Julianne looked amazing as they glided across the dance floor. He bent down on one knee at the end and I thought he may propose…nope!
Len said finally Chuck you have come out of hibernation. Bruno said that Chuck is emerging from the shadows and was really performing. Carrie Ann said that she was going to disagree with these guys and tonight she said that Chuck lost his focus and was not confident. The judges scores for Chuck and Julianne were 7, 8, 8 a score of 23.
Lawrence Taylor is really ready to go home. If nothing else, he has dispelled the myth that all football players can dance. He walked/stomped his way through the Paso Doble with partner Edyta Sliwinska. While the judges commented on his intensity of persona, Carrie Ann was unimpressed by his limited range of motion.
Shawn Johnson displayed great musicality in a Viennese Waltz that was lyrical and simplistic in its design. Partner Mark Ballas choreographed a routine that showed the judges Shawn has the poise and elegance necessary to carry her to the finals. Leaving her gymnastic Lindy Hop in the distant memories of the judges and fans, Shawn landed near the top of leader board this week.
(more…)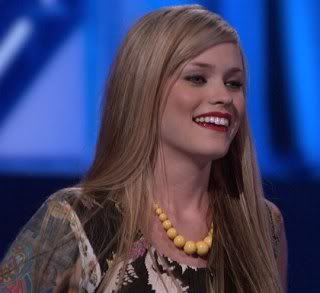 Here's a recap of what happened on American Idol Season 8 this week. We'll start with the performance night. There is no teacher or adviser whatsover this week. Songs from the performance night was chosen freely by the contestants as long as it belongs to the "Top Downloads of iTunes" category. Almost all the song choice of the contestants were not current hits as expected by almost everybody.
First thing, Ryan Seacrest as always introduce the judges which is kinda annoying because almost all people who are the judges. They'd been watching them for 8 seasons, common! Except for Kara who's a recent addition but really we know them already why bother introducing them over and over again?
Here's what my opinion and what the judges commented about the American Idol Top 9 performances of the night. From worst to best in my opinion.
Megan Joy Corkrey
She sang her rendition of "Turn Your Lights Down Low" by Bob Marley/Lauryn Hill. She's really dumb when making song choices, i don't get it why she's still in the competition
Judges comments:
Kara said I really like you but think you're in trouble, wrong song; Paula said need to take us by surprise, need to dig deep, on a stool in a spotlight with no distractions (like her horrible 'dancing'); Simon said song was boring, indulgent, monotonous, all the things we liked about you are disappearing.
Anoop Desai
He sang "Caught Up' by my favorite R&B artist Usher. I think Anoop is not reaching my expectations or everybody's, even his choices of clothes bothers me, his vocals are alright, boring performance, a real let down
Randy said picked up your swagger, vocals good, not sure it was the right song for you; Kara said played it safe, no big difference, feels like frat guys dared you to sing Usher; Paula said showed your playful side, vocals really good, need to work on stage presence; Simon said complete and utter mess, wannabe, arrangement gave him headache, no originality.
(more…)