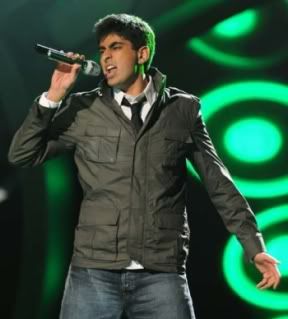 On American Idol 8 results show this week, two persons will be eliminated due to the judge's save last week. Who do you think was voted off last night? Lots of vote came in, about 45 million. This week's Idol results episode delivered something a little different for the opening number. Rather than the usual group number, in which the contestants sing live and do a few basic dance steps, we got a lip-synced performance as the contestants performed a dance routine choreographed by Paula Abdul.
They sang the song Shake Your Body Down To the Ground from the disco era. Then the contestants gave Paula flowers to show their gratitude for being their choreographer for last night's opening number.
Another Ford video was launch and its entitled I'm Good, I'm Gone. Seems like the Top 7 enjoyed the making of the video so much. Quality is good but not as good as last week.
Then reality hit again. Lil Rounds must have done something to tick off someone important (Simon Cowell?) at American Idol. Rounds was dispatched faster than anyone in the history of the show Wednesday night. She was the first one asked to stand. Without drawing things out, Ryan Seacrest took her to one side of the stage and told her that her American Idol journey was over. That part is kinda annoying because of the way they dispatched the singer but almost all see it coming.
(more…)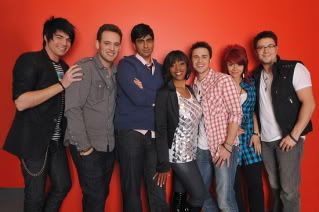 Its the second week of the American Idol Top 7 tonight. Two will go home tomorrow due to the judges save last week. So who you think will go home? And who will stay to be on the Top 5? Its Disco night for American Idol today and let's watch the contestants bring Disco back/
The night started with Lil Rounds singing Chaka Khan's "I'm Every Woman". Randy Jackson was still rambling on how he cannot see Rounds as an artist. Kara DioGuardi thought it was not worth the wait while Paula Abdul threw in some kindness, saying that Round looked great. Simon Cowell played it straight and plain, dropping the "you're going home" bomb.
Kris Allen sang Donna Summer's "She Works Hard for the Money". Although it was a disco song, he brought his guitar and was backed up with an acoustic band. Kara loved the arrangement which was a big risk, Paula felt a "classy Santana" in the performance, Simon said it was "original, well-thought and not karaoke", Randy thought Kris was ready big time.
Danny Gokey chose "September" by Earth, Wind & Fire. Randy was worried about the song choice but thought it still worked. Kara called it "solid", emphasizing that he is a good vocalist who's always on pitch. Paula said he showed his agility as a performer and has taken it a step further. Simon said it was "awkward and clumsy".
(more…)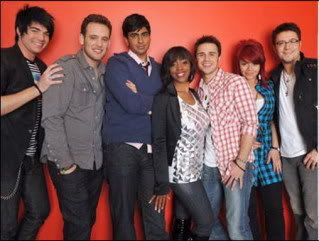 It's "Songs from the Cinema" week on 'Idol,' and with such a wide variety of genres and themes, no one should have a bad night this time around. You'd think so anyway!
Allison Iraheta
'I Don't Want To Miss A Thing'
by Aerosmith
A refreshing change from her usual hard, edgy rock performance. It was a little slow, a little overly breathy in the beginning but she worked it out. At the end, it was distinctly Allison.
Paula: You are authentic. You are a remarkable, talented young lady.
Simon:I think you are the girls' only hope in the competition. You are getting stronger, more confident.
Anoop Desai
'Everything I Do, I Do It For You'
by Bryan Adams
The original was borderline cheesy. Anoop's rendition was firmly in cheese territory and definitely boy band material.
Randy:You have definitely found your zone. It was in tune and emotional.
Kara:You found your place. I thought it was one of your best vocal. I felt connected to you. You did a good job.
Adam Lambert
'Born To Be Wild'
by Steppenwolf
The showman is back! No more suits and slicked back hair. He ruled the stage and had the audience in the palm of his hand with that electric performance. He reminds me of David Bowie.
Paula: Fortune rewards the brave. You are one of the bravest contestants I have ever witnessed.
Simon:Vocally, incredible. However, it was a little like watching a Rocky Horror musical. A portion of the audience will love it, some will despise it.
(more…)
American Idol Season 8 is back with the Top 8 contestants and their theme this week is "the year that you were born. We'll see baby pictures of the contestants and of the judges too. Here's what the contestants performed:
Danny Gokey
He performed Stand By Me (Mickey Gilles version). The song is from the year 1980. He sorta change the songs arrangement, making it interesting to listen but not powerful enough for me. Randy Jackson tells Danny that he made him love it, even though he didn't love the arrangement. Kara Dioguardi agrees. Paula says he opened the show by setting the bar high. Simon Cowell says he thought the beginning was good, the middle was lazy, and the end was terrific – so overall – great!
Kris Allen
Idol cutie and last week's contender came out today with the song All She Wants To Do, a hit on his birth year, 1985. He's now playing the guitar and he changed the songs arrangement drastically which didn't bade well to the judges specially Simon, who called his performance indulgent, boring, and forgettable – it was a stupid song choice.
Lil Rounds
She sang Tina Turner's "What's Love Got to Do with It" – she sang it well, but nothing original. Lil must be confused by what the show's aim is – they're looking for a star, but she keeps performing songs by well-known artists and singing it like the original. Perhaps she just doesn't know what to do with her talent. So far, Lil has shown she'd be really good to be hired to sing at a bar to entertain folks which isn't so bad…she just isn't a star.
Anoop Desai
He chose to do Cyndi Lauper's "True Colors" – Great version a bit boring, but great vocals.
(more…)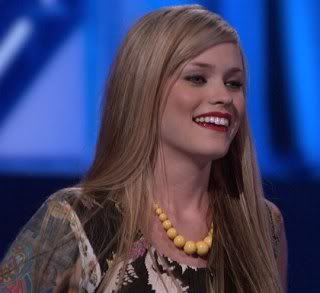 Here's a recap of what happened on American Idol Season 8 this week. We'll start with the performance night. There is no teacher or adviser whatsover this week. Songs from the performance night was chosen freely by the contestants as long as it belongs to the "Top Downloads of iTunes" category. Almost all the song choice of the contestants were not current hits as expected by almost everybody.
First thing, Ryan Seacrest as always introduce the judges which is kinda annoying because almost all people who are the judges. They'd been watching them for 8 seasons, common! Except for Kara who's a recent addition but really we know them already why bother introducing them over and over again?
Here's what my opinion and what the judges commented about the American Idol Top 9 performances of the night. From worst to best in my opinion.
Megan Joy Corkrey
She sang her rendition of "Turn Your Lights Down Low" by Bob Marley/Lauryn Hill. She's really dumb when making song choices, i don't get it why she's still in the competition
Judges comments:
Kara said I really like you but think you're in trouble, wrong song; Paula said need to take us by surprise, need to dig deep, on a stool in a spotlight with no distractions (like her horrible 'dancing'); Simon said song was boring, indulgent, monotonous, all the things we liked about you are disappearing.
Anoop Desai
He sang "Caught Up' by my favorite R&B artist Usher. I think Anoop is not reaching my expectations or everybody's, even his choices of clothes bothers me, his vocals are alright, boring performance, a real let down
Randy said picked up your swagger, vocals good, not sure it was the right song for you; Kara said played it safe, no big difference, feels like frat guys dared you to sing Usher; Paula said showed your playful side, vocals really good, need to work on stage presence; Simon said complete and utter mess, wannabe, arrangement gave him headache, no originality.
(more…)

Its time to eliminate another one from the Top 10 of American Idol seasin 8. Whose going to leave their dreams behind and whose still on? Ryan Seacrest announced that more than 36 million votes came in – the highest number of votes they have ever received for a Top Ten group in the history of Idol! Season Two winner Reuben Studdard is there to perform, and there will be a duet with Joss Stone and Smokey Robinson in honor of Motown week! The judges were introduces and reminded that they can still exercise the option to save someone who has been voted off tonight.
Show opener tonight is no other than Reuben Studdard, American Idol winner singing his latest single, Together. Dressed in a dashing black suit with white piping trim, a bearded and bald Reuben belts out his tune live much to the delight of the studio audience. After the song, Ryan announces that congratulations are in order – Reuben was recently married!
It's been an exciting week for the contestants on American Idol, as they were flown by private jet to Detroit to visit Hitsville. Down to business, Ryan Seacrest says it's time to pull out the bottom three. He asks Adam Lambert to stand up. After the nationwide vote – he's safe! Matt Giraud is next in the spotlight – the judges all thought he had a solid performance – but America disagreed – he's in the bottom three! The studio audience boos! Kris Allen is centered out by Ryan next. He builds the suspense, but then says that Kris is safe. Lil Rounds and Michael Sarver are both asked to stand up now. Lil is told she is safe, but Michael is in the bottom three.
Joss Stone and Smokey Robinson take the stage on American Idol to sing their duet, You're the One For Me. Joss is wearing a floor-length, flowy blue dress, and Smokey is in a debonair black suit. After the song, Ryan says that someone else will have to join Michael and Matt in the bottom three.
Ryan Seacrest asks Allison Iraheta to stand up – last week she was in the bottom three on Idol, this week she is safe! Anoop Desai is called. America voted and Anoop is safe as well! Danny Gokey gets to his feet. Ryan says Simon called his performance clumsy and amateurish – but America disagrees with Simon – he's okay! Scott and Megan are the last two contestants – one is in the bottom three. Simon predicted that Megan Joy might be in trouble – but it's actually Scott McIntyre that is in the bottom three! Ryan asks Randy Jackson to say who does not deserve to be in the bottom tonight – Randy says Matt has been rockin' the mic! Ryan sends one person back to safety, but it isn't Matt – it's Scott! (more…)

Its the second elimination night for American Idol Season 8. Lots of surprises will be showcased tonight including a performance by country stay Brad Paisley and of course American Idol's own Carrie Underwood who had recently been inducted in the Grand Ole Pry group as invited by country star Randy Travis. Randy who's been the one who visited the American Idol contestants this week had been amazed with the potential and talents of the participants. He will have a duet with Carrie tonight.
The show kick off with the Top 11 singing Trouble by Travis Tritt as a group performance. Then the new music video of Ford "Here It Goes Again" was watched as the participants played with water balloons. They have shared that the experience of taping the music video was really a lot of fun. Then Ryan showed a montage of what goes behind the scenes when a contestant was eliminated as what happened to Jasmine and Jorge last week.
Now, its time to call the bottom three. Ryan called Danny Gokey, Lil Rounds and Anoop Desai. They are safe this week and will be accompanying the Top 10 on the American Idol summer tour. Then Michael Sarver and Allison Iraheta were told to stand up. Ryan asked for Paula Abdul thought on whom she thinks who's the one between the two that is included in the bottom three. Then Paula said it was Allison. Ryan agreed with her and announced that Allison is indeed in the bottom three. But wait Michael is not safe too. He will accompany Allison in taking the stool because they are not safe.
(more…)
American Idol's Greatest Moments! Relive the moments that shaped music history!
Click here for American Idol's Greatest Moments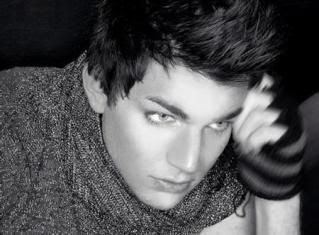 Last night the Top 13 Finalist of American Idol performed for the first time on Idol '09. With the heart stopping performances, Simon's criticism and the fans howling 2 of the top 13 had been eliminated tonight. Also a new rule has been announced which involves the judges. Know more by reading this entry until the end.
33 million votes had came in last night for the first performance night of the American Idol Top 13. So the bottom two contestants who got the lowest votes will be elimated from American Idol.
Host Ryan Seacrest explained the new rule for everyone. Its called the Judges Save. The judges can use this rule to save a contestant once and only once until the Top 5. Once they use it, the save cannot be used again the entire season. The week they use the save, no one will be eliminated but the next week two will go. Simon Cowell commented that it is not necessary reversing America's decision.
Then the audience have been given a glimpse on how the contestants are treated by the Idol management. They are living in a mansion, complete with amenities which they can use anytime they want. What a glorious opportunity for them, right?
(more…)
Last week America voted for the first three contestants to enter the Top 12 of American Idol Season 8. America voted Danny Gokey, Alexis Grace and Michael Sarver. This week did America voted the right persons to go to the Top 12?
First the contestants performed I Just Can't Stop. Adam Lambert and Kai Kalama manage to out stand the others on this performance. Ryan next takes a look back at the performance night on American Idol when the lucky twelve prepared to perform live. He remembers how Simon commented on the bad choice of songs, and how the judges reacted to Nick's comedic performance – with Simon telling him he prays he doesn't go through to the next round! Ryan wonders who made the biggest impression on America!
First Allison, Jesse and Matt where called first. Allison was a clear favorite on performance night because of her intense singing (and she's only 16). However, she's not really seen on the early stages of the show, not frequently like the others. But surprise! She make it to the Top 12!
(more…)