Uhh… You mean that Bristol Palin – she could be the winner of Dancing with the Stars? Oh my lordy! What is going on with this world!
I don't mean to be disresepectful but she's kind of chubby and dances like a muppet. (I did mean that!)
I only see her as being a oddity and curiousity figure for viewers. I hope she is not credited as an ultimate victor and put on a pedestal with other Dancing Iwth The Stars winners. And c'mon – she's not even a star… (more…)
Tonight at Dancing With The Stars Season 8, another couple will be voted off and 6 professional dancers will compete on a guaranteed spot as pro partner of a star next season. Who do you think will go home tonight? And let's watch who's the pro that is worthy to be a star partner on season 9.
First up, Natasha Bedingfield performed her new hit "Soulmate" from her album Pocketful of Sunshine accompanied by pro dancers, Dmitry Chaplin and Lacey Schwimmer. The perfromance was great.
After that, another performance by the cast of the international dance sensation Burn the Floor danced an original number by world champion Ballroom dancer and Burn the Floor creator and choreographer Jason Gilkison. Burn the Floor has thrilled audiences in more than 30 countries worldwide, taking audiences on a toe-tapping journey through the passion and history of Ballroom dance. They are currently performing at San Francisco's Post St. Theatre and will close on April 26, 2009.
The first three couples who are safe were announce and they were Chuck and Julianne, Melissa and Tony; and Shawn and Mark.
Then Tom and Samantha announced another competition within the show. Half a dozen professional dancers will compete to become the new addition to the shows professional trainer to the star next season. This week the six professionals paired into three couples and competed in the first round with their chosen style of dance, either Latin or Ballroom. One couple (two professional dancers) will be eliminated based on viewer votes.
The first couple who performed for the pro competition were Brent and Afton. They danced the Cha Cha Cha. Well, Afton obviously outshine her partner. Len commented that the Cha Cha Cha was crisp and clear and Afton showed more drama. Bruno said that Afton was very sharp and Brent brings new blood. Carrie Ann said that Brent has a great TV presence and Afton is beautiful to watch.
(more…)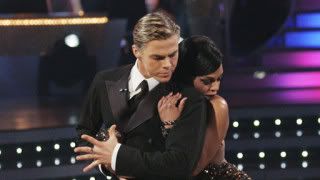 More surprises on Dancing With the Stars Season 8 tonight. The contestants not only had to perform their own couple dance, but they also had to dance in a group routine which will be scored by the viewers only. The dressed of pro dancers tonight were designed by their star partners. The stars danced a variety of styles of dance hoping to stay in the running by winning both the judges and viewers votes tonight.
Melissa needs to be a maneater, but doesn't know how to. What does Tony do? Take her to Wisteria Lane, naturally! Synergy! Too bad Edie's dead. They meet up with Teri Hatcher… who is a really a great actress, Melissa says. No comment. Costume-wise, Melissa clearly concentrated more on herself than she did on Tony. What's with the red line on the stockings? Is that where we're supposed to peel? It looks like one of those perforated lines on packaged gum.
Anyway, this song is giving me a sonic headache, but it doesn't seem to be affecting them. Melissa's legs look awesome, red line and all, with its sharp and acute lines. I don't really feel the maneater-ness, just like how I didn't feel any chemistry in their rumba last week. It's a good performance, but not a great one. Len loves the lifts, but saw a blunder. Bruno calls it the revenge of the maneater. Carrie Ann calls it by far the best Argentine tango she's ever seen. Uh, what?!? Do the names Gilles and Cheryl mean anything to you? How soon we forget. They scored 29 out of 30.
Next Lawrence and Edyta were up with a Waltz. Edyta thought that it would be difficult for Lawrence to be graceful because he is such a big guy. Lawrence said he was getting his smooth on. What Lawrence lacks in technique he makes up with his beautiful personality. Lovely routine.
Bruno said that Lawrence definitely got his smooth on. Carrie Ann said that she saw more freedom in his movement and he looked like he was enjoying the dance. She also complimented him on the dress that he designed for Edyta. Len said that overall he was shocked at how well Lawrence performed the dance and it was unfortunate that the dress got caught on Edyta's head. They scored 21 out of 30.
(more…)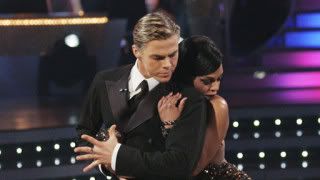 Jive and Rumba are the dances for tonight on Dancing With The Stars Season 8. The competition is halfway through with only 8 pairs remaining. The couples are going to get a beat down tonight. Who will be on the leader board and who will be down? Watch out here!
First on the dance floor will be Ty and Chelsie. Being the first one to perform the Jive this week didn't work to Ty's advantage. Despite giving his all, his performance was unsatisfactory as he was off beat most of the time.
Len said that Ty is charming and is bewildered as to what he is doing here. He gives 100%, but unfortunately his dancing wasn't that good. Bruno said the line dancing was good, and then the Jive started. Carrie Ann said that the dancing was exciting, but unfortunately Ty shows how some dances are better suited for each competitor and this dance wasn't for him. The judges gave Ty and Chelsie triple 6's an 18 out of 30.
Next would be Shawn and Mark or Team Shark. Shawn was terrified of the rumba given the sensuality of the dance. But the youngest competitor in the history of the show gave a very age-appropriate routine, earning the first standing ovation of the evening.
Bruno said that the dance was so beautifully pure it was almost angelic. Carrie Ann said that she thinks innocence is a beautiful thing and she could see the discomfort in her eyes a little bit. Len said that the Rumba is a bit like a fire and sometimes it is a bit too hot and they got it just right. The judges gave them 8, 8 and 9 a 26 out of 30.
(more…)
After last week's double elimination on Dancing With The Stars Season 8, nine celebrities remain. And last night they dance the romantic Viennese Waltz or the dramatic dance of the bullfight, the Pasadoble. Tom Bergeron asked us whose Viennese Waltz will put the competition in a spin and whose Pasadoble will blow us away.
First to perform were real life lovers Chuck and Julianne. Chuck said he was finally going to let his guard down and go for it as he dances the Viennese Waltz. He really did let his guard down and Chuck and Julianne looked amazing as they glided across the dance floor. He bent down on one knee at the end and I thought he may propose…nope!
Len said finally Chuck you have come out of hibernation. Bruno said that Chuck is emerging from the shadows and was really performing. Carrie Ann said that she was going to disagree with these guys and tonight she said that Chuck lost his focus and was not confident. The judges scores for Chuck and Julianne were 7, 8, 8 a score of 23.
Lawrence Taylor is really ready to go home. If nothing else, he has dispelled the myth that all football players can dance. He walked/stomped his way through the Paso Doble with partner Edyta Sliwinska. While the judges commented on his intensity of persona, Carrie Ann was unimpressed by his limited range of motion.
Shawn Johnson displayed great musicality in a Viennese Waltz that was lyrical and simplistic in its design. Partner Mark Ballas choreographed a routine that showed the judges Shawn has the poise and elegance necessary to carry her to the finals. Leaving her gymnastic Lindy Hop in the distant memories of the judges and fans, Shawn landed near the top of leader board this week.
(more…)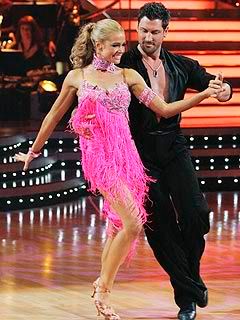 Its the second elimination night for Dancing With The Stars. Tonight DWTS will going to showcase 2 award winning musical entities and of course no other that DWTS alumnae herself Cloris Leachman and her pro partner Corky Ballas.
Who are the two pairs who will battle in the showdown tonight? And who will be eliminated?
Samantha Harris explained before the show begun that next week two pairs will be eliminated with the double elimination round. And here comes the reality part..
The first four couples who were called out on the safe zone where Melissa Rycroft and Tony, Gilles Marini and Cheryl, Shawn Johnson and Mark and last (and a surprise one) Steve Wozniak and Karina!
Then another four pairs were called out to dance another week for Dancing With The Stars and they were Lawrence Taylor and Edyta, Davil and Kym, Chuck Wicks and Julianne and Lil Kim and Derek.
Only four other couples remain on the spotlight. Let's see who will be safe and who's not after this amazing performance!
Its week 3 of Dancing With The Stars and the contestants all have the same time to practice makes them on equal footing.
I am very excited to see the contestants and their partners tonight!
The first to grace the dance floor tonight on Dancing With The Stars were Denise and Maksim. They danced the Samba. Maksim thought that Denise was being too serious, so he dressed up in a hot pink samba outfit to get her mind off the steps. Great effort for Maks. Their routine was still too stiff and Denise look like she was scared to dance.
Len commented that the samba is the hardest of all the Latin dances and he thought that Denise needed more hips and flare.
Bruno said that the dance was so flat and full of holes, it was more like a waffle than a samba.
Carrie Ann told Denise that she shows all of her emotion in her face and she looked terrified. She also told Denise to work on her arms movements.
The judges gave them scores of 5, 6 and 5 a 16 out of 30.
Then real life partner Chuck and Julianne came out on the dancefloor. This week they are stepping up their game with the foxtrot and Chuck hopes to break out of Julianne's shadow. Their dance was fantastic. Bruno said he was happy to say Chuck was in the driving seat tonight and wasn't chasing Julianne all over the place, but leading her. Carrie Ann said that she thinks someone is showing that they can be a contender. Len said that it is hard to teach your partner anything and he thought the hold and posture was good, but not great yet. (more…)
Dancing with The Stars 2009 premiere had kicked off last week on ABC.
This week the show had its 2nd performance night and 1st elimination night. I'm going to tell you about the show's 2nd week of performance and their 1st elimination round last night. So gear up your seats and be ready to be filled up with info!
The first to perform where Playboy star Holly and her pro partner Dmitry. They were dancing the quickstep tonight. One week sure made alot of difference for Holly. She was very light on her feet and the choreography was cute! Len said that the quickstep is a very difficult dance. Holly's posture was lacking and her bosum sticks out too much. Bruno said that Holly has to keep up with her partner.
Carrie Ann said that Holly was like a doll being dragged across the floor and had to work on being an equal partner with Dmitry. The couple's scores were 6, 6, 6 an 18 out of 30 their total with last week's scores is 32 out of 60.
Second couple to perform were funny man David and his pro partner Kym. David asked for a harder routine, so Kym gave it to him. They were dancing the salsa. The dance was more technically difficult, but still fun. Bruno said that his character was right, his hip action was poor and his timing was off. Carrie Ann said that they were lacking from being driven by the musicality. Len said that the salsa is a true performance dance, and although he performed it there was far too much of Kym and not enough of David. Their scores tonight were 6, 5 and 6 a total of 17 and an overall total of 36 out of 60.
Then red hot mama Denise grace the floor with her partner Maksy-poo. Maks told Denise that the judges were wanting Denise to bring it tonight and she was prepared to do so. They danced the quickstep tonight. She had a few mis-steps here and there, but her performance was so much better than last week. The jitters seem to be gone. Carrie Ann said that Denise had performed much better and for the most part was really great. Len said that there was a great improvement from last week except one moment where they lost a bit of synchronicity. Bruno said aside from a bit of a stumble, she did very well. The judges gave them 7, 7 and 7 a score of 21. With their scores from last week they now had a total of 39 out of 60. (more…)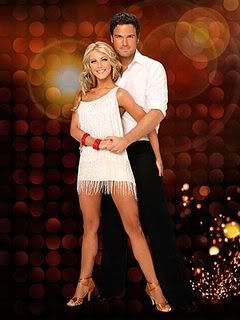 Chuck Wicks and Julianne Hough
Last week, ABC has revealed the season 8 cast of Dancing With The Stars and last night they presented the promo pictures of the 13 pairs. Check out their photos here! Who's the hunkiest and gorgeous of them all?
The highlights: Lil' Kim, looking fuh-ierce in a barely-there sequined number, vamping it up with pro partner Derek Hough. Apple co-founder Steve Wozniak wearing a pink button-down that matches partner Karina Smirnoff's fluffy cotton candy-colored outfit. And Jackass prankster Steve-O cleaned up (and wearing clothes!) next to partner Lacey Schwimmer.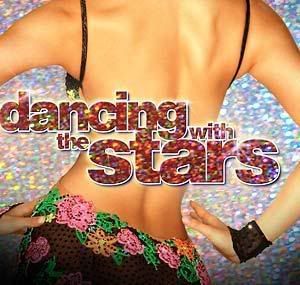 The season eight casts of Dancing with the Stars was bit by bit revealed during commercial breaks in between ABC's Sunday night prime time lineup. The contestants names were dropped when Extreme Makeover: Home Edition started, and continued throughout the telecasts of Desperate Housewives and Brothers & Sisters.
For the first time on the show, a celebrity couple — singer Jewel and her husband, rodeo star Ty Murray — will compete against each other. Another twist is a real life couple will compete on DWTS together and that would be Dancing champ-turned-country-singer Julianne Hough and her boyfriend, country singer Chuck Wicks.
Real-life professional couple Maksim Chmerkovskiy and Karina Smirnoff, who got engaged last December, will compete against each other with their respective celebrity partners.
(more…)