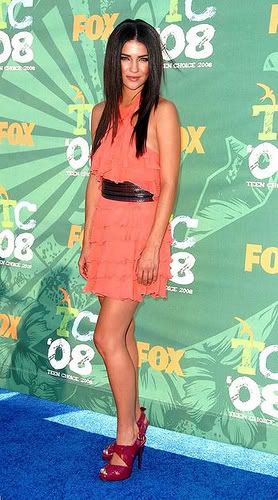 Gossip Girl author Cecily von Ziegesar says producer Josh Schwartz and his crew have been spot-on even though adaptations from page to screen can be quite difficult.
She tells MTV.com, "I'm a very faithful watcher… Generally I'm entertained and I think it's great." However, Von Ziegesar does see something unusual for the Gossip Girl TV series, its their depiction of the TV version of Vanessa, played by Jessica Szohr.
"I think Vanessa is one character they ruined," she says. "In the book, she's kick-ass and has a shaved head and wears lots of black. I think a lot of the readers who don't usually read teen fiction identify with Vanessa," In the show, Vanessa has more of a bohemian hipster look.
The author clarifies that it has nothing to do with Szohr, adding: "I just wish Vanessa was like she is in the books a bit more."
(more…)
 Madchen Amick has been so lucky after all. The actress, who plays Nate Archibald's (Chace Crawford) mature and beautiful love interest on Gossip Girl, has a steamy make out scene with the 23-year-old. And that's just in the first five minutes of the show's season two premiere!
Luckily, she's not above kissing and telling. "He's a very good kisser," Amick, 37, says. "If anyone gets the opportunity to kiss him, he will not disappoint."
The season premiere of the CW show, which airs Monday (8 p.m. ET), catches up with Nate and his fellow privileged pals, Serena (Blake Lively), Blair (Leighton Meester), Chuck (Ed Westwick), Dan (Penn Badgley) and Jenny (Taylor Momsen), at the end of the summer season. (more…)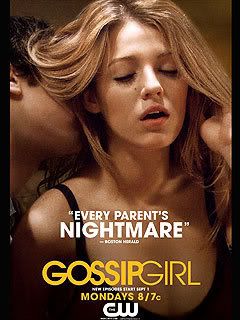 The new season ads of Gossip Girl will raise eyebrows again, for sure. They have use the negative comments of organizations and tabloids for their racy ad campaign. I'm sure critics will be talking about this new ads with punch lines like; "Every parent's nightmare," "Mind-blowingly inappropriate, " "Very bad for you," and "A nasty piece of work."
And it's precisely those words that are being used to promote the show's new season on ads that feature the shows stars — Blake Lively, Chace Crawford, Leighton Meester and Ed Westwick — in super sexy poses and scandalous situations.
Check out the other ads of the TV show Gossip Girl Season 2: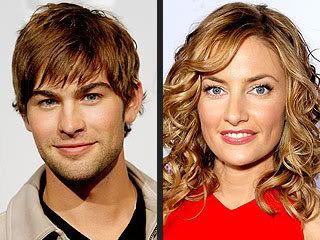 A woman will try to seduce the Gossip Girl hunk, Nate Archibald, and she's more experience and older too! Madchen Amick will join the Gossip Girl ensemble when the next season begins on September 1 this year. Amick was last seen at Twin Peaks and Viva Laughlin. She will be cast as Catherina Mason at one of the most popular TV shows today, Gossip Girl. Catherine will try to tempt Nate (played by Chace Crawford) into an implicit romance.
In the first season of the CW show, Nate famously broke up with Blair Waldorf (Leighton Meester and was last seen (possibly) rekindling with newly single Serena Van der Woodsen (Blake Lively).
Will Nate fall prey to a cougar? And how will the prep school queens handle competition from an older woman?