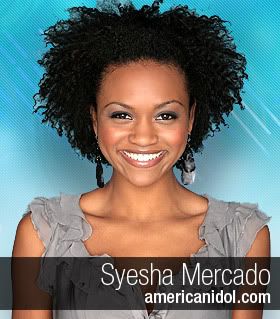 Syesha Mercado had an amazing performance on American Idol last Tuesday but its not enough for the voters. She was eliminated from the Top 3 last Wednesday night and the two Davids remain to battle for the American Idol title.
Last Tuesday, the Top 3 contestants of American Idol performed 3 songs each — a judge's choice, producers choice and their own choice. For the judges choice each judge has a designated contestant to give their choice of song. Paula Abdul chooses "And So It Goes" by Billy Joe for David Archuleta, Simon Cowell chooses "First Time Ever I Saw Your Face" by Roberta Flack for David Cook, and Randy Jackson chooses "If I Ain't Got You" by Alicia Keys sor Syesha Mercado. Then after that the 3 performed their songs choices and the producer's choice. It was a very good night for the three contestants but only two must be left for the finale this week.
So place your votes for your idols now! The two Davids on the battle fields and your vote matters. David Cook or David A!
Watch Syesha's last performance at American Idol singing If I Ain't Got You.
10:40 am |
Do you ever download music videos?
What benefits do you get from your PC or Mac? I've come to notice that I use my G4 Ibook on a daily basis and can't seem to function without it any more. 

There are just so many options and conveniences that my laptop offers. These days we don't even have to deal with cords. The wireless connection makes it all too easy.
I actually find myself ordering pizza online, simply so I don't have to make the phone call. Wow, have home computers changed a lot of things.
One of my favorite advantages that comes from having a computer and Internet access concerns entertainment. I love the way it's so easy to download music videos and movie trailers. I no longer have to wait for the TV to play certain things. I can easily pop open my Mac and check them out on a whim. (more…)